There are many extraordinary coffeeshops in Amsterdam and you can classify them by what they can offer you. Some of them sell great quality weed at competitive prices. Others own an amazing venue where you can chill, play games and enjoy free time with your friends. There are also some coffeeshops which sell fantastic edibles and they have top-notch service.
List Of The Best Coffeeshops in Amsterdam:
The Stud
Boerejongens
Paradox
La Tertulia
Katsu
Vondel
Grey Area
Bagheera
420 Cafe
Tweede Kamer
Original Dampkring
Abraxas
Siberie
Smoke Palace
Het Ballonetje
1e Hulp
Barney's Lounge
In this article, I will try to provide you the best information about coffeeshops in Amsterdam. You will find here insights based on my own experience, my friends experience and research I did especially to write this essential coffeeshop guide. I live in Haarlem, few kilometers from Amsterdam for the last 6 years and I have a little bit of experience with local coffeeshops. I will also talk about coffeeshops where you can play billiard. Enjoy reading and if you have anything to say about below coffeeshops do not hesitate to share your opinion, so we all can have the best experience possible.
If you like coffeeshops and cannabis you may be interested in the coffeeshop tour. I know a Dutch guy, Otto, who runs cool coffeeshop tours in Amsterdam. Here you can learn more about his tours.
The Best Coffeeshops in Amsterdam
1. The Stud – One Of My Favourite
The Stud is my favorite coffeeshop in Amsterdam. It's also getting highest ranking in Google, Facebook, Smokers Guide or Get Smoking. It's popular amongst tourists and locals. The Stud is one of the earliest opening Coffeeshops in Amsterdam. It opens at 7 am and closes as late as 1 am.
What's more? You can check free to use Volcano Vape, bongs, high-quality space cakes, amazing Weed and great Hashish. You can order a fresh orange juice or hot chocolate with whipped cream.
Edibles
If you think about edibles you must remember that 1 Space cake contains 0,5 gram of weed and it's pretty strong. Wait up to 2 hours for effects especially when you are a beginner or it's your first time. Edibles tend to be much stronger than smoked weed.
In a Nutshell
The atmosphere is relaxed, the staff is professional, helpful and very friendly. In some cofffeeshops you will get overpriced weed and drinks – not here. You can count on cempetitive prices. There are some computers and of course, you can use them. You can also play some free to use board games, charades, jenga etc.
In The Stud, they accept credit cards, but you can also pay cash.
The smoking room is ventilated and their menu is very well described, but if you have any question, budtender is going to help you.
If you have limited time in Amsterdam and you want to visit a coffeeshop, this is a place for you to go.
How To Get There?
Coffeshop The Stud is a little bit out of the City Center but thanks to that it isn't overcrowded and you can always enjoy a relaxed atmosphere. There are only people who just want to chill, no bachelor parties or drunks. It's actually only half an hour from Amsterdam Central and you can get there with bus 289, or if there is a sunny day just enjoy a walk. It's not that far and you go through the beautiful neighborhood. From Amsterdam Central, it's only 50 minutes walk and if your hotel is close to Red Light District of Rembrandsplein it's even closer.
Address: Molukkenstraat 581, 1095 BJ Amsterdam
Opening Hours Daily: 7 am – 1am
2. Boerejongens
Boerejongens coffeeshop has as many as 4 locations in Amsterdam. I will describe Boerejongens shortly and for more information, you can go to their website Here you can see their website.
Boerenjongens are well known of their high-quality space cakes. They sell top-notch edibles, you can order even a red velvet cake, which tastes great and is strong.
Check below their amazing edibles. They look like real art.
Boerejongens is well known for their quality and you can expect the best stuff available. The bartenders are professional, helpful and they always advice when they see the newcomer. Boerejongens are among the best coffeeshops in Amsterdam. The only downside of this coffeeshop is their small smoking area.
Opening hours vary in each location so the best is to go their site and click on Our Coffeeshops tab.
3. Paradox – One Of My Favourite
In Paradox, they sell very strong space cakes. One slice contains 1 gram of weed, so if you are experienced smoker you should check them out. Definitely not for newbies. They are very very strong, so read instructions on the package.
It's one of these coffeeshops where you can feel the friendly vibe, sometimes a little overcrowded, but there is no stress.
They have a great weed, friendly staff and in general, it is a cozy spot. It looks more like a cafe, not like a smoky coffeeshop.
You can use their Volcano Vaporizer. It's free to use.
When you visit Paradox, which is located in the Jordan neighborhood, you should definitely spend some time walking around this district. This is one of the most beautiful areas in Amsterdam. Photos from Amsterdam are often taken here, in Jordan.
How To Get There?
Opening time daily: 10am – 8pm
Address: Eerste Bloemdwarsstraat 2R, 1016 KS Amsterdam
4. La Tertulia – One Of My Favourite
La Tertulia Coffeeshop is full of plants and it feels more like an organic cafe than a coffeeshop. Definitely, a place to be when you are in Amsterdam. It's quite small, but personally, I like places like this. If you are like me and you like sitting in a cozy spot, drinking coffee and staring on passing by people this is a place to be.
Two ladies who run this coffeeshop make you feel like at home and thanks to that this is a perfect place for shy people, girls or first-time smokers. I don't know why most of the time it is not as busy as other mainstream coffeeshops and actually, it should be because it is a great place.
Often people say that it's the coziest coffeeshop in Amsterdam, lots of plants, delicious herbal teas, fresh orange juice and hot drinks, kind service, big windows, natural light, and relaxed vibe. You can eat here something tasty.
How To Get There?
It's closed on Sunday and Monday. From Tuesday to Saturda open from 11 am to 7 pm.
Address: Prinsengracht 312, 1016 HX Amsterdam
5. Katsu
You will find Katsu coffeeshop just near the famous Albert Cuyp market. (Actually now this market is full of Chinese cheap stuff so don't expect to buy a Rembrandt painting. It's definitely not the same as in the past). But, coming back to Katsu coffeeshop, what surprised me were their vegan space cakes.. you see, now they sell healthy things even in coffeeshop 😉
In a Nutshell
In Katsu you can expect high-quality weed and decent pricing, chill venue and relaxing music.
I like its decoration and vibe, you can truly relax and don't worry about anything.
Service is very friendly and you can count on helpful advice, budtender tells you about the best weed strains they have so you can buy weed that is the best for you.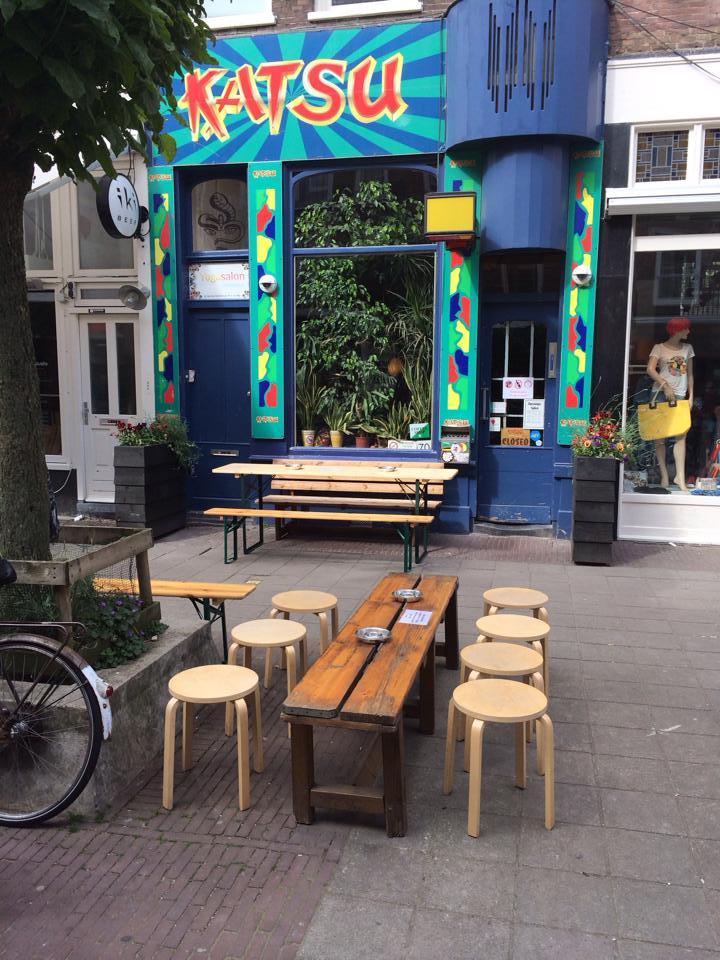 Katsu is one of Amsterdam's gems and you should definitely give it a try. It's located a little bit further from the central station, but it's often very crowded that means they have something to offer.
How To Get There?
Address: Eerste van der Helststraat 70, 1072 NZ Amsterdam
Daily from 10 am to 12 pm
Friday Saturday 10 am – 1 am
6. Vondel
This is one of the best coffeeshops in the area of Vondel park. Around are many hotels, so if you stay 15 minutes from this place you should check this cozy spot with friendly staff and quality bud. I work not that far from this coffeeshop and often I recommend Vondel to tourist visiting Amsterdam.
As far as I remember you can't pay card here, so always have some cash with you. Not only here you need cash. There are more coffeeshops where you can't pay with card, so it's smart to have always some coins with you. It's open as long as possible till 1 am daily.
They have a free Wifi, coffee which meets my standards and I can say it's very good and of course high-quality weed. On this list, you won't find coffeeshops with poor weed. In general Amsterdam weed is extraordinary. They know what they do.
How To Get There?
Opened daily: 9 am – 1 am
Address: Netherlands, Overtoom 451HS, 1054 KH Amsterdam
7. Grey Area
This coffeeshop is an icon within Amsterdam's cannabis scene. It's a winner of 2017 High Times Cannabis Cup, 4 Amsterdam Unity Cups, and other awards. This is a coffeeshop where you can find real gems, very special strains for Cannabis Connoisseurs. You can use their glass bongs, Vulcano Vaporizer and enjoy a living room atmosphere. 
Grey Area is relatively small, so it may happen that you won't find a sitting place inside. Just be prepared to buy some cannabis and leave, it's surely worth it, grey area is the winner of many cannabis competitions, and they sell pricey buy exceptional weed.
It's located in 9 streets area, the city center, so be ready for crowds. It's touristy, but in the end, Amsterdam is a Dutch heart of tourism, it's a city center and you are a tourist 😉 enjoy your time.
It's a tiny shop, not good for hanging out, but it's one of a kind. If you search for high-quality weed this is a place to be. But if you are a beginner smoker you don't need to find the best weed in a town, most of the weed in the Netherlands is very high quality and a beginner would be happy with a decent cheap weed. I don't mean it is a poor quality.
How To Get There?
Opened daily: 12 pm – 8 pm
Address: Oude Leliestraat 2, 1015 AW Amsterdam
8. Bagheera – Extraordinary Baked Goods
Bagheera is well known for their extraordinary baked goods, so if you are looking for high-quality space cakes, keep in mind Bagheera. Check their Instagram to see Bagheera weed, space cakes, and venue.
Very helpful service, friendly atmosphere, and good music – all of it you can find in this coffeeshop. It's not that far from the city center and it's one of earliest opening coffeeshops in Amsterdam. On the weekend you can buy their products from 7 am.
How To Get There?
Address: Kloveniersburgwal 60, 1012 CX Amsterdam
9 am –  1 am
saturday sunday from 7 am – 1 am
AmsterdamCoffeeshops.com5/53 reviewsSmokers Guide7,4/1017 votesGetSmokin3,3/54 votes
9. 420 Cafe
In 420 Cafe it's forbidden to smoke tobacco, so it's a great place for those, who don't smoke cigarettes. Do you ask how to smoke a joint then? You can get a herbal mix from the bar for free.
What is a herbal mix? It varies, but most of the time there is damiana, passion flower, Mugwort or Mullein Leaf. I was a cigarette addict for 10 years and I avoid tobacco in any form. That's why I have a pretty big bag of Damiana at home and I can recommend this herb. It's fine to pair it with cannabis.
420 Cafe is quite small and most of the time crowdy as it's located in the heart of Amsterdam. But you can always count on helpful service and a chilled vibe.
How To Get There?
Address: 27, Oudebrugsteeg, 1012 JN Amsterdam
Opened 10 am – 8 pm daily
10. Tweede Kamer
Tweede Kamer is small and cozy. It's quite a long time in Amsterdam because it opened its doors for the first time in 1985. It's one of the oldest coffeeshops in the city and it's well-known for its quality. They offer a great variety of weed strains and you can smoke your joint in a positive atmosphere.
It's called Tweede Kamer(second living room) and it feels like this. You literally feel like sitting in someone's living room. This is one of my favorite spots in Amsterdam.
Sometimes it can be a little overcrowded and loud. It's small but not as full as other coffeeshops in the city center. Here you can check their website.
How To Get There?
Opening hours daily: 10am-1am
Address: Heisteeg 6, 1012 WC Amsterdam
11. Original Dampkring
Cool interior, great chocolate milk with whipped cream and relaxing vibe. That is the place where ocean 12 was shot. If you look for something special, you find it in Dampkring.
Personally, I like its wooden interior and it feels magical to me. It's one of a kind coffeeshop and if you are looking for something different you should definitely visit Dampkring, get to know their cat and chill in a relaxing atmosphere. I would suggest you to order a green mint tea. They serve a real fresh mint instead of some funny tea bags.
It is a little bit expensive, but you know what you pay for. It's better to pay a few euros more and enjoy your experience than to go budget and regret.
Here you can see Dampkring Website
How To Get There?
Opening Hours Daily: 10am – 1am
Address: Handboogstraat 29, 1012 XM Amsterdam
12. Abraxas
I like Abraxas looks, it's mostly timbered, wooden tables and counter. Handmade walls are covered with colorful tiles. The decor is just out of this planet, very detailed and dreamlike.
If you are in the city center you should visit Abraxas. It's located a few steps from dam square. You can find it on Jonge Roelensteeg 12-14, 1012 PL Amsterdam.
Abraxas name comes from a classic children story about a witch and her little talking raven called Abraxas. In the beginning, owners had an idea of creating a place like from this children story where people could feel safe, laugh together and enjoy their time.
Abraxas is one of the best coffeeshops on this list. I highly recommend it if apart of good weed you are also looking for a great atmosphere and cool interior.
Opening hours daily 8am – 1am
13. Siberie
Coffeeshop Siberie is located close by the central station. It's no more than 10 minutes walk from the railway platform. It's rated 4,6 out of 5 stars in google ranking. I look at this ranking because there is the biggest amount of reviews. With 753 reviews Siberie gets 4,6 which is a pretty high score.
Siberie is a beautiful coffeeshop, not like some underground, sloppy cannabis cafes. This top-end venue brings feelings of relaxation and I like to stay there because of the great atmosphere and I think this , in the end, the most important in the coffeeshop. Because if you would like to sit and spend there some time this is crucial. You meet here helpful and friendy staff. I can totally recommend this place, it's one of my favorite.
Siberie is located in the gorgeus beginning of canal belt area. From there you can follow the canal belt and visit 9 streets and Jordan.
14. Smoke Palace
This coffeeshop is located in another part of the town, close to Oosterpark and if you stay in this area this is your place to go. By the way, Oosterpark is a very nice place for a walk.
What I like the most about this coffeeshop, there is plenty of space and it's perfectly suited for large groups. Comfy seats, great music, you can chill outside, they have a big outdoor sitting area.
Smoke Palace serves great coffee, high-quality weed and there is always somebody you can talk to even if you come alone. You can eat here a chicken or tuna panini, pie, Tosti with triple cheese or just drink a freshly squeezed orange juice.
When visiting Smoking Palace you have to follow their rules mentioned on the website here. For example
An ID is required,
Not allowed to stay longer than 2,5 hours,
At least 1 drink per person
Own Consumption is not allowed
How To Get There?
Address: Linneausstraat 83, 1093 EK Amsterdam
Opened daily from 7 am to 1 am
15. Het Ballonetje
Coffeeshop Het Ballonetje is located close to Artis Zoo, right next to the university in the neighborhood called Plantage, it's a little bit further from the city center, thus more relaxed and chilled.
In Google, The Balloon gets score 4,5/5 with almost 300 reviews. You find here a great variety of cannabis strains and the atmosphere is always welcoming. You won't see many tourist in this coffeeshop and prices are very competitive.
How To Get There?
Address: Roetersstraat 12, 1018 WD Amsterdam
Here you can go to their site for more information.
16. 1e Hulp
https://www.instagram.com/p/Bs33BIzhc_4/?utm_source=ig_web_button_share_sheetIn Coffeeshop The First Help you can enjoy smoking your favorite weed and pet their white-red cat at the same time. The Cat living in coffeeshop must be living a gooood life ;P If you stay in Jordan you should definitely visit this coffeeshop because of their unique strains. If you are an experienced smoker you have heard about their moonrocks. They are very well known for their high-quality Rockies.   You can eat here some space cakes but I am not sure about their quality. If you are beginner smoker you can get 1 gram of weed but they can mix two strains for you, 0.5 grams each so you can try different sort of weed and I wouldn't ask for this in other places because it can be a headache for budtender. It is not very common in other coffeeshops.   I heard some bad opinions about their rude budtender, but I am not sure if this guy still works there. From my experience you can expect very helpful staff in 1e Hulp but this place sometimes can be really packed like all coffeeshops close to city center. If you want to enjoy privacy better try another coffeeshop further from the center. But there is plenty of seating so you should be fine and not rushed.  
How To Get There?
  Coffeeshops 1e Hulp is 15 minutes walk from the Dam Square and you go through the beautiful 9 Streets Area. Take some more time and ejoy 9 Streets because it's one of the most beautiful places in the whole Netherlands   Address: Marnixstraat 194, 1016 TJ Amsterdam   Opening Hours: 7am – 1am daily  
17. Barney's Lounge
Barney's Lounge is most of the time pretty full like all coffeeshops close to the city center. This one is very popular and few minutes from the Rembrandsplein – an Amsterdam's party center. It looks more high-end than other coffeeshops. I prefer more chilled out venues but if you are looking for something fancy this is a place for you.
They have free to use Volcano Vaporizer. When you get there, before you choose a weed you should order a coffee – it's delicious. I could also recommend their milkshakes. There is nothing better than a refreshing drink after you smoke some weed.
Is it pricy? Yes, it is a bit expensive, but anyway, it's always a cool place for smoking.
I am not sure how it's not but I head many stories about their unpleasant staff.
How To Get There?
Address: Reguliersgracht 27, 1017 LK Amsterdam Opened Daily from 9:30 am to 1 am
Keep this in Mind
I often hear that tourist are offended because they were asked to buy weed in a coffeeshop and they read on the internet that it is fine to buy just a coffee. Of course, most coffeeshops allow you to smoke your own product but think logical and understand when they ask you to buy weed. Imagine that you are next client who doesn't buy their product and they make their living with selling weed, so if you were asked to buy weed maybe you were just the next one who doesn't buy anything. Coffeeshop could be full and maybe they prefer inside someone who smokes their weed. Don't be offended, it may happen even in the best coffeeshop, just be understandable and in the end, you can buy prerolled joint for 3 Euro.
Coffeeshops with Pool Tables
Saloon Smoking Bull
This isn't a coffeeshop but a bar where you can smoke weed. Bar Smoking Bull is located in Red Light District Area. You can go there and play pool or watch sports. It's definitely a good place for football fans because of many TV screens. As far as I know, you can even contact this bar in advance for watching a particular game. Frank, the manager, won't make any problems. He is a very good guy. There is also a space where you can smoke some pot. Moreover it's clean and tidy, beer is in good price and they serve some food.
Funky Monkey Coffeeshop
If you are looking for a friendly staff, good vibe and great music this is a place to go. Of course, there is a pool table and most of the time it's not taken. I has been damaged for some time but as far as I know it is fine now. You find here high-quality cannabis strains, some of them are very rare and exotic. Space cakes are just one of a kind, definitely worth trying if you are into edibles, but a word of caution for beginners – cannabis edibles tend to be very strong. This coffeeshop is situated on Marnixstraat 333, close to 1ste Hulp.
Hunters Grande Cafe
Hunters Grande Cafe is located at Reguliersdwarsstraat nr. 44. In Hunters, you can play billiard, watch sports, drink a beer and smoke weed. They have two tables and most of the time at least one of them is available. Hunter's Grand Cafe is part of Hunters coffeeshop chain. If you like one of their location here you can search for more.
'T Keteltje Coffeeshop
If you like watching soccer and playing billiard that is a place for you. Most visitors are men and it's located on Marnixstraat, a little bit further from the city center so most of the time you can meet locals here.
It's also a great place for groups, there is plenty of space to sit. Service is friendly and helpful and prices and also fine. It's open until 1 am daily.
Important Information
Weed in the Netherlands is not available for tourists in each area of the county. For sure you won't have any problems buying cannabis in Noord-Holland, Amsterdam, and surroundings. The further you go to the south you can experience that coffeeshops don't sell to foreigners. Along the Belgian border, you will definitely have some problems buying weed if you aren't Dutch. On the south, you can get it in Heerlen or Kerkade but in Maastricht, Sittard or Geelen a tourist cannot enter a coffeeshop. The further inside the country, the more possible for you to get some weed